The class "Personal Finance for Young Adults" usually isn't part of a high school curriculum – an unfortunate oversight that leaves many young people clueless about how to manage their money, apply for credit, and stay out of debt. Now that you're in college, it's likely that you're in charge of your financial affairs more so than when you lived at home and mainly functioned in the realm of your parents' economic universe. Indeed, you have more freedom to decide where and how to spend money.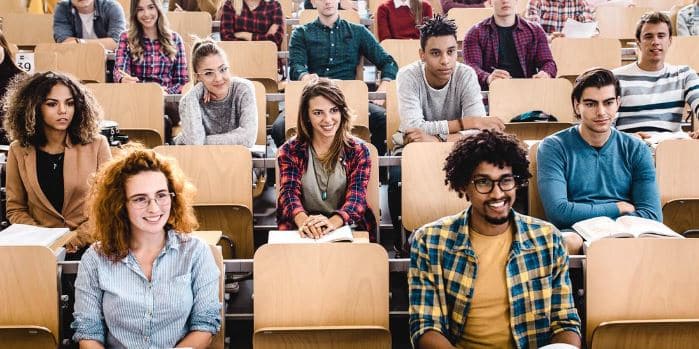 But with that freedom comes the responsibility to spend money wisely. That's what it's like when you're on your own – you get to decide. And you also get to experience the consequences of your choices, both good and bad. Soaring tuition costs coupled with financial unpreparedness spell a recipe for financial setbacks. Accordingly, it is crucial to understand basic financial tips for students and other core lessons about money.
9 Practical Financial Literacy Tips for College Students
While you may be forgiven for being nose-deep in your books, it's time to reflect on how you manage your money. Do you have a budget? Or are you spending it on the go? Remember that the younger you are, the more time your savings and investments will grow – the sooner you start, the better. Here are some practical, real-world financial tips for college students you can take advantage of to reinforce your saving and spending habits.
Create A Budget
Carefree high school students frequently spend whatever is in their bank account, living off their parents' generosity or the spoils of a part-time job. Once that student moves to college, a budget becomes indispensable. Making a monthly or semester budget is the first step toward staying on top of your finances. Budgeting gives you a big-picture view of your money, so you can make informed spending and saving decisions. Start by identifying your income for the semester or year, including paychecks if you have a job, loans, grants, and family contributions. Accounting for your inflows gives you an idea of how much to spend each month. Thereafter, plan for essential needs like transport and food. In whatever is left, you can save a fixed percentage and spend on other expenses like trips or simple pleasures. Remember to stick to your budget because straying from your financial blueprint defeats its purpose and risks pushing you into debt.
Practice Self-control
One simple but effective financial tip for college students is always paying with cash, not credit. You're lucky if your parents taught you self-control. If not, understand that the sooner you learn the essential life skill of delaying gratification, the sooner you'll keep your personal finances in order and as a habit. Put your money for everyday purchases on a debit card instead of a credit card. A debit card attracts no additional fees when making transactions, unlike a credit card with a high-interest charge. Use credit cards only for emergencies.
Track Your Spending
Write down every purchase you make or use a budget app. Create a routine that includes a regular accounting of your finances. Simply tracking what you spend can help you notice patterns and understand where your money is going. It also enables you to identify if you need to make a change. This financial self-knowledge will make your life calmer and allow you to focus on more important matters like your grades.
Exploit Student Discounts
College students should become masters in exploring ways their educational status can save them money. Restaurants, local venues, vendors, and services near college campuses often offer student discounts that can save you big money. What's more, you should learn the value of hunting down great deals by looking for bargains. Being discount-obsessed is also an excellent financial tip for high school students since many companies offer discounts in the form of student memberships.
Use Cheap Essay Writing Services
It's essential to make time for fun and relaxation even as you juggle academic work, family obligations, and social life. Sometimes students feel zapped from energy because they have too much on their plate and end up buying expensive college essays online. Luckily, you can use cheap but reliable and trustable professional essay writing help without breaking the bank. Custom Writings is a college paper writing service that offers affordable academic writing help from scratch for students in the USA and worldwide. Their writers deliver subject-savvy, content-rich custom college essays and research papers that help students fulfill their educational goals without blowing holes in their budgets. More free time, better grades, and financial wellness are three key benefits you get from using their services.
Set Financial Limits
Imposing financial limits for necessary items is another way to curb impulse buying. Setting a spending limit doesn't necessarily prevent you from making impulse purchases but helps you pause and assess whether the new iPhone is necessary. By setting a relatively low limit, say $100 per month, you get a wiggle room without having carte blanche when it comes to spending power. Add the non-essential money into your student's proposed budget, separate from basic expenditures on food and gas.
Avoid Full-price Textbooks
Ah, the textbook – the budget breaker for college students everywhere. While it's true that some professors change and update texts practically every year, the vast majority use the same textbooks each academic year. Students shouldn't have to shell out hundreds to shop for books before class. As a student, you can exploit many ways to save money on college textbooks, such as shopping for second-hand books from Amazon. You can also rent a book online or borrow local libraries. This financial wellness tip helps you recoup some of the cash spent on buying books.
Get A Job
Of course, college should be fun. The freedom of being on your own is something to be savored, and the social aspects of college are nearly as vital as classes. But if you can, adding a part-time job to the equation can significantly boost your income. Many college jobs have flexible schedules built to accommodate students. So, find a job that fits your workload without spreading yourself too thin. That extra cash can make a huge difference in managing a budget.
Collaborate with Roommates
Having roommates in college is pretty much a necessity. So, if you're doing college solo, you have set yourself up for a much more expensive ride. Undoubtedly, living with roommates can be a challenge, but saving on housing can make it worthwhile. It's crucial to go beyond having roommates to cut down on housing costs.
The Bottom Line
Your financial decisions during college have a lifelong impact, which is why it's important to have financial literacy. You don't need an MBA in Finance or even specialized training to become an expert at managing your personal finances. Following these basic financial tips for students can lead you to financial security, which forms the cradle for building the rest of your dreams. Remember, these ideas are not just for college students but also practical financial tips for high school students.