Nottinghamshire-based managed IT services specialist Octavian IT has celebrated winning a plethora of major projects by expanding into larger premises.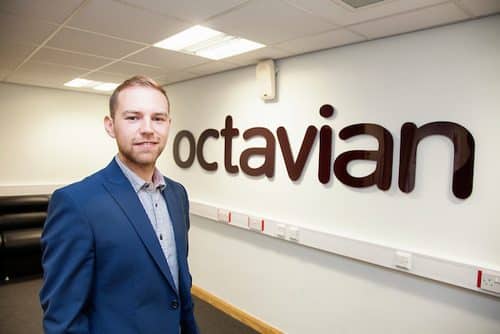 The Cyber Essentials-accredited company saw its annual recurring revenue increase by £78,000 over the last 3 months after snagging six prestigious contracts, several of which are with companies operating in the security industry. 70 per cent of the Octavian IT's revenue now comes from highly-regulated, security-based industries.
The firm, which also recently added three new recruits to its team, has now moved to more extensive offices in Bingham as its rapid expansion continues.
One new contract valued at more than £142,000 over 2 years will see Octavian install IT and phone systems and provide ongoing 24/7 IT support and maintenance cover for a major London-based security services provider. The London firm has recently built a bespoke 7 figure ARC (alarm receiving centre) in the Midlands to service UK and international CCTV and physical security monitoring contracts.
Octavian IT also recently completed a major project which involved moving the longstanding accountancy practice to a new cloud-based centralised server system in Microsoft Azure, installing a cloud-based phone system and facilitating and managing IT systems at the firm's new office in Twyning.
In addition, the cyber security specialist has set up IT systems for a high-end US footwear brand's new site in London and will now provide full IT support to a London and Midlands-based logistics group.
The new contracts add to Octavian IT's already-burgeoning client base, which includes four fully-contracted US companies, two of which operate in the medical industry.
Octavian IT Managing Director Ben Solomon said: "The past three months have been an exciting time for Octavian IT. We have added three new members of staff tour growing team, increased our revenue significantly and won six major contracts.
"We are continuing to make inroads into the security sector, and recently became Cyber Essentials accredited, which demonstrates our commitment to our own internal cyber security standards and protection of our clients systems. We're pushing now for the next phase which is Cyber Essentials Plus, followed by the ISO standards.
"The speed and scale of our expansion made it necessary to take larger premises, which we have now done. We're now looking forward to a busy and prosperous year ahead."

Octavian IT is part of the award-winning multi-service provider Octavian Group.
0